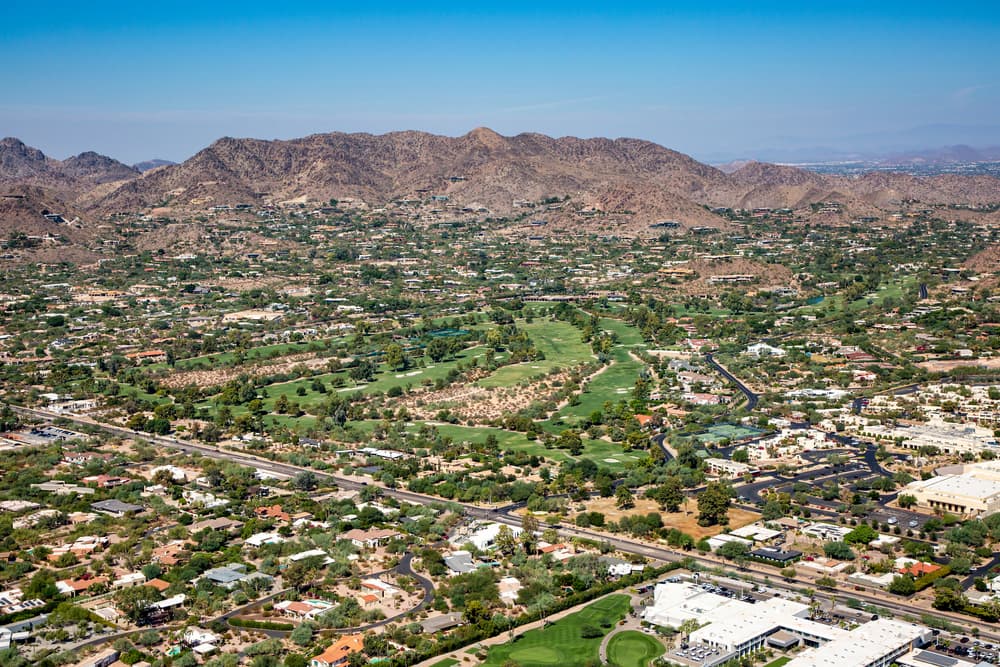 Accutemp serves the Phoenix Metro area, which includes Paradise Valley, AZ. You can call us 24/7 for AC repair Paradise Valley. As HVAC professionals, we provide various services, including heating, AC, and wine cellar repair.
Serving the Entire Phoenix Metropolitan Area
Our service area includes the cities of Maricopa County and parts of Pinal County:
Arcadia
Phoenix
Goodyear
Apache Junction
Fountain Hills
Glendale
Surprise
Wickenburg
Mesa
Chandler
Scottsdale
Our Commercial and Residential Services
Heating Services
Even though Paradise Valley, AZ, is in the Valley of the Sun, it still gets chilly during the winter. If you want to stay comfortable, your heating system needs to be in good shape. Fortunately, regular maintenance can prevent many issues.
Maintenance
How often do you clean your heating system? If it's been a while, you may feel the difference when a cold snap hits.
We recommend customers schedule heating maintenance before the winter is in full swing. Early care allows us to identify any issues well before your heater starts running every day.
Repair
When your heating isn't working, you need professionals who jump into action. The experts at Accutemp are ready to remedy the situation, day or night.
Installation
Are you building a new home and need a heating system installed? Is your old system on its last legs, and you're interested in upgrading? In both instances, Accutemp is the company to call. We can install natural gas furnaces or heat pumps and even help you determine which is right for you.
Air Treatment
Air quality is essential to comfort and health, but as residents of Paradise Valley, AZ, know, the desert is incredibly dusty, and the Phoenix Metro area has heavy pollution. The good news is, Accutemp can help you maintain good air quality with our services.
Air Quality Services
Did you know poor air quality can make you sick? Fortunately, your HVAC system is designed to filter out all kinds of irritants:
Unfortunately, when your filters are dirty, those allergens can slip through and cause respiratory irritation or allergy flareups. If you want to ensure your home's air is clear, you should call Accutemp to clean your vents and change the filters.
Air Defender
The Advanced Indoor Air Treatment by Air Defender is the latest in air quality technology. It can eliminate a variety of contaminants:
Viruses
Bacteria
Mold
Smoke
Chemical odors
Pollutants
If you want to create the healthiest atmosphere for individuals with respiratory conditions or severe allergies, the team at Accutemp recommends this system.
Wine Cellar Repair
Wine is sensitive to shifts in temperature, which is why so many connoisseurs build to store expensive vintages. However, these climate-controlled rooms are subject to the same issues as other HVAC systems. What should you do if your wine cellar isn't fulfilling its purpose?
Accutemp has NATE-certified technicians who can remedy the problem. Our quick work ensures your collection is safe from adverse effects.
Residential AC
If you need an HVAC Paradise Valley company for residential issues, Accutemp is here to help. We've fixed systems for homeowners for over 35 years and are dedicated to offering the highest quality service. Whether you're looking to replace your air conditioner or need a quick duct cleaning, our technicians are ready to go.
Maintenance
Everyone in Arizona knows you need a well-maintained AC system to be comfortable during the summer. To ensure your AC is in top shape, Accutemp offers maintenance services.
Repair
Your AC is working its hardest during the summer, which is why it's also the most common time for systems to have problems. Should you encounter issues, Accutemp can get your HVAC system up and running in no time. As Valley residents, we understand it's impossible to live in AZ without AC, which is why we're ready to stop by at a moment's notice.
Installation
Is it time for a new unit? If you're scouring the market for a new HVAC system, our team can assist with both the decision and installation processes.
Commercial AC
In addition to working on home systems, Accutemp professionals can also assist with commercial spaces such as offices, warehouses, stores, and more. We understand how important it is to keep employees and customers comfortable, and we work quickly to avoid inconvenience.
Maintenance
Business owners know that the better you care for your equipment, the longer it'll work for you. To make maintenance easy, we offer agreements that include regular testing for potential problems.
Repair
If something does go wrong on your property, Accutemp can be there in a flash. Make sure you call us at the first signs of trouble:
Musty or burning smell
Banging or other strange noises
High energy bills
Installation
Commercial spaces have different HVAC needs than a single-family home, which is why it's so essential to hire professional installers. No matter the type of property, our trained technicians can get your system set up and running.
Refrigeration
Many businesses require refrigeration for perishable goods. Here at Accutemp, we can help with a variety of refrigeration systems:
Industrial ice machines
Freezers with glass displays
Walk-in coolers
Appointments
From Gilbert to Paradise Valley, AZ, you'll find Accutemp professionals hard at work. If you're interested in HVAC services, it's easy to get in contact with us — you can give us a call at 602-957-3745 or send us a message through our online form. We're happy to answer all of your questions and schedule an appointment at your convenience.
Featured Image: Tim Roberts Photography/Shutterstock