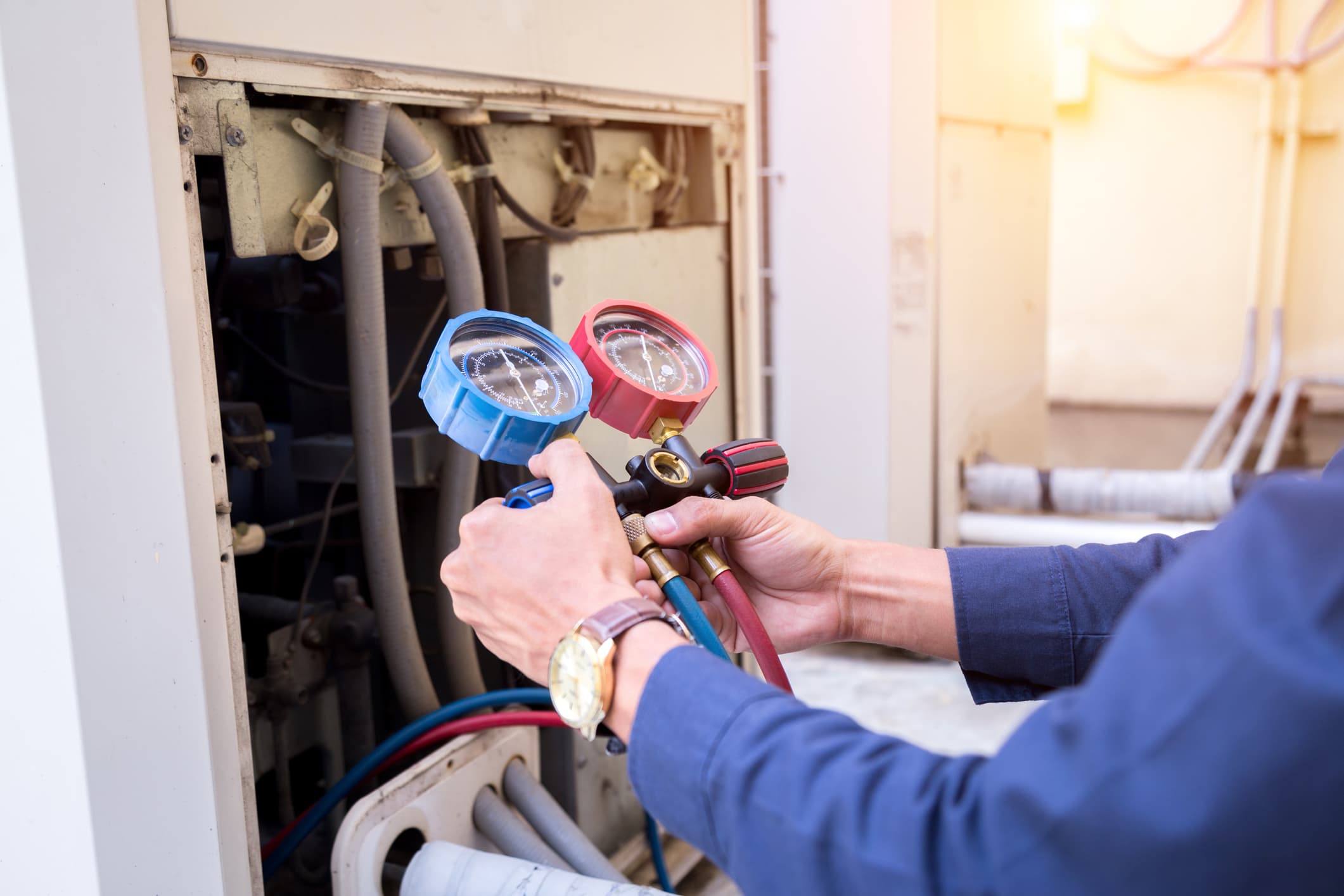 Your home should be where you rest and relax without worries. When your HVAC can't keep up, or your refrigerator goes out, you must find an experienced HVAC contractor. You need your refrigerator running properly to keep your food safe, and you want your HVAC system to keep your home comfortable at all times.
AccuTemp takes this seriously. As premier HVAC and refrigeration contractors in Gilbert, AZ, we offer comprehensive commercial and residential services that include installing, repairing, and maintaining various models and brands of HVAC and refrigeration systems.
Our Services
Your living environment takes more than just a quality heating and cooling system to remain comfortable. When something goes awry, you need access to experts. You will find those experts at AccuTemp.
If you need an HVAC contractor in Gilbert, AZ, give us a call to find out why customers trust us throughout Gilbert and the greater Maricopa County, AZ. If this is your first time requesting our services, you will soon find out why people respect us for our professionalism, reliability, and superior service.
Our services include:
AC installation, repair, and maintenance
Whether you want to replace an old air conditioning system or are ready to improve energy efficiency, AccuTemp has you covered. We always conduct a complete property evaluation to ensure the new system suits your space perfectly.
Routine AC maintenance is critical for protecting your investment. It will help reduce the need for repairs and extend its overall lifespan. We also perform regular maintenance to ensure your system runs in optimal condition.
If you find that your air conditioner isn't performing as it should, AccuTemp's qualified technicians can quickly diagnose and repair issues. We keep essential tools and parts in our van at all times so that we're always prepared to get you up and running.
Heating units installation, repair, and maintenance
When the temperature in Gilbert, AZ, reaches uncomfortable lows, your heating system will ensure that your property remains warm. AccuTemp technicians will advise you on the best heating system to maximize efficiency for your space. In addition, we perform annual maintenance on existing systems to make sure your business or home is always prepared.
Refrigeration units installation, repair, and maintenance
AccuTemp not only provides HVAC and heating services, but we are also the go-to refrigeration contractor in Gilbert, AZ. Our excellent team can install, maintain, and repair your refrigeration system to keep it running smoothly at all times.
Wine cellars units installation, repair, and maintenance
AccuTemp understands that wines are sensitive, especially to heat. For that reason, we offer wine storage installation services to keep your favorite beverage away from one of its worst enemies; heat. Additionally, we offer repair and maintenance services to the existing wine cellar units.
Why Choose AccuTemp?
At AccuTemp, you will find nothing but excellent service. We strive to offer positive customer experiences every time you reach out to us, and we work hard to maintain long-term relationships with you.
Whether you need residential, commercial, or industrial installation or repairs, our staff has the training, knowledge, and experience to get the job done right. Our reputation for being your trusted and reputable HVAC and refrigeration contractors in Gilbert, AZ, is something we take seriously.
What to Expect From Our Services
AccuTemp guarantees that your technicians will be fully insured, licensed and qualified. With AccuTemp, we provide the best service for your cooling, heating, and refrigeration needs. We are confident that you'll get the best possible service from us, which includes:
Free estimates and second opinions over the phone
Honest pricing with no hidden costs
Prompt, professional service, and 24/7 emergency service
Customer-oriented service and superior solutions
Schedule Quality HVAC Service in Gilbert, AZ
We know it is essential for your HVAC and refrigeration systems to work properly in Gilbert, AZ when temperatures can soar. Luckily, you can sleep in peace knowing an expert HVAC and refrigeration contractor like AccuTemp is within your reach in case any problem arises. Reach out to us to schedule your service today.
Image Source: A stockphoto / Getty Images