As a true Phoenician, the last thing you want or need is to have a problem during a birthday party or holiday because your air conditioning decided to break down. At AccuTemp we offer regular residential maintenance agreements for your Air Conditioning system to prevent just such a disaster. Our professionally trained technicians will test your equipment to ensure that it is operating accurately and reliably.
At AccuTemp we are interested in making sure you get the most out of your existing equipment. The following list of tips in response to common situations that we come across with residential customers. If you follow these basic tips and schedule regular air conditioning maintenance your equipment will last much longer.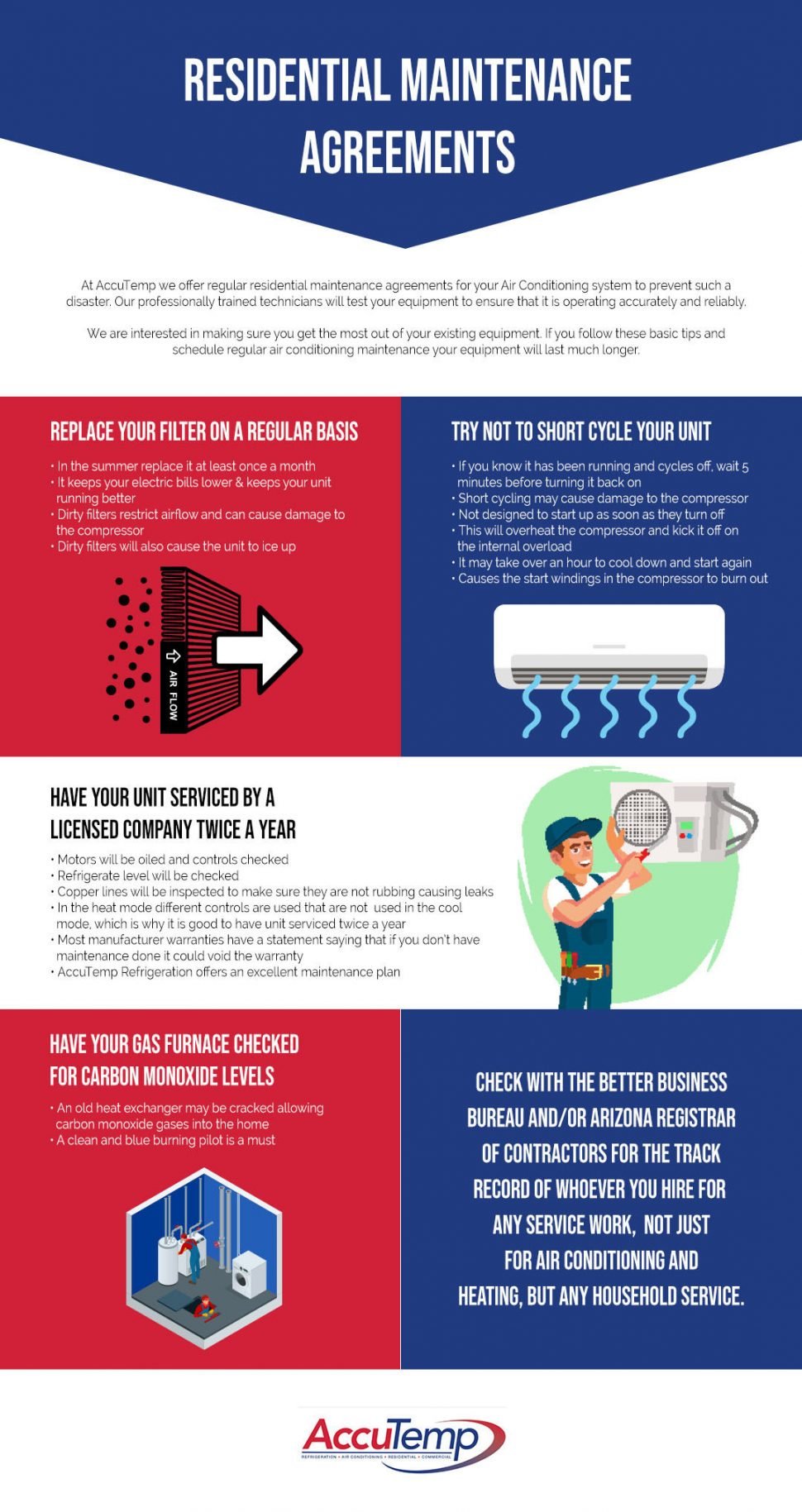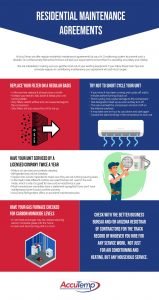 Replace your filter on a regular basis.In the summer replace it at least once a month. It will keep your electric bills lower and also keep your unit running better. Dirty filters restrict airflow and can cause damage to the compressor. Dirty filters will also cause the unit to ice up.
Try not to short cycle your unit.If you know it has been running and cycles off, wait 5 minutes before turning it back on. Short cycling your unit may cause damage to the compressor. They are not designed to start up as soon as they turn off.  This will overheat the compressor and kick it off on the internal overload. It may take over an hour to cool down and start again. Short cycling also causes the start windings in the compressor to burn out.
Have your unit serviced by a licensed company twice a year.The motors will be oiled and controls checked. The refrigerate level will be checked, copper lines will be inspected to make sure they are not rubbing causing leaks. In the heat mode different controls are used that are not used in the cool mode. That is why it is good to have unit serviced twice a year. Check your manufacturer's warranty, most have a statement saying that if you don't have maintenance done it could void the warranty. AccuTemp Refrigeration offers an excellent maintenance plan.
Have your gas furnace checked for carbon monoxide levels.Better to be safe, an old heat exchanger may be cracked allowing carbon monoxide gases into the home. A clean and blue burning pilot is a must.
Check with the Better Business Bureau and/or Arizona Registrar of Contractors for the track record of whoever you have do any service work, not just for Air Conditioning and Heating, but any household service.
Here are a few of the problems that can occur when your A/C inside unit and outside unit are not properly maintained:
Air Handler Inside Unit Check
Dirty air filters are a frequent cause of low suction pressure in air conditioning systems and high temperature rise in heating systems. Dirt will also collect on evaporator coils. Improper filtration of the home can cause excessive dust in the house and compound allergy problems.
A dirty evaporator coil restricts air flow and prevents proper transfer of heat to the refrigerant and can cause compressor failure. Compressors are not designed to pump liquid refrigerant and this can cause the compressor to fail.
Algae can cause blockage in the drain line, resulting in overflow of up to 15 gallons per day. Extensive ceiling and floor damage may occur.
Symptoms are similar to a dirty evaporator coil. You may experience sudden loss of heating under peak load conditions or excessive heat due to low air flow which can damage heating coils.
This can damage the high limit safety switch, heat exchanger or heating elements and shorten the life of the furnace.
When a maximum temperature rise is reached with a minimum amount of air flowing it can possibly cause damage to the heater. When a minimum temperature rise is reached with a maximum of air flowing it can lead to cold drafts.
These are caused by loose connections and overheating. This can lead to a sudden loss of heating under peak load conditions.
Such an issue can cause sudden loss of heating under peak load conditions, damage heating units or shut down entire systems.
A damaged thermostat leads to uncomfortable temperature swings in living areas and can damage compressors.
This can make for uncomfortable temperature swings and damage the thermostat. It greatly affects the heating efficiency of the furnace.
This is the result of poor design, installation, or damaged ducts, which increase utility costs, cause rooms or areas of the home to feel uncomfortable, and shorten the life span of all HVAC equipment.
Outside Condensing Unit Checks
The lack of cooling air doesn't remove heat from refrigerant properly. Since refrigerant also cools the compressor, it can cause the compressor to overheat and fail.
Often the system capacity is reduced, and oil return problems are frequently experienced with undersized lines. This can shorten the life of the compressor and increase cooling/heating bills.
Indicates compressor overworked and bearings seizing up. It can also damage the capacitor or overcharged unit.
Issues are caused by overworking the compressor. Weak or faulty capacitors will reduce starting ability and cause compressors not to run smoothly, which will cause compressors to overheat and fail. A higher than normal amperage usually indicates a weak capacitor.
Weak or faulty capacitors will reduce starting torque for compressors. The compressor will overheat and fail. Be sure to check the potential relay before the unit is placed back in service or the new capacitor may be damaged.