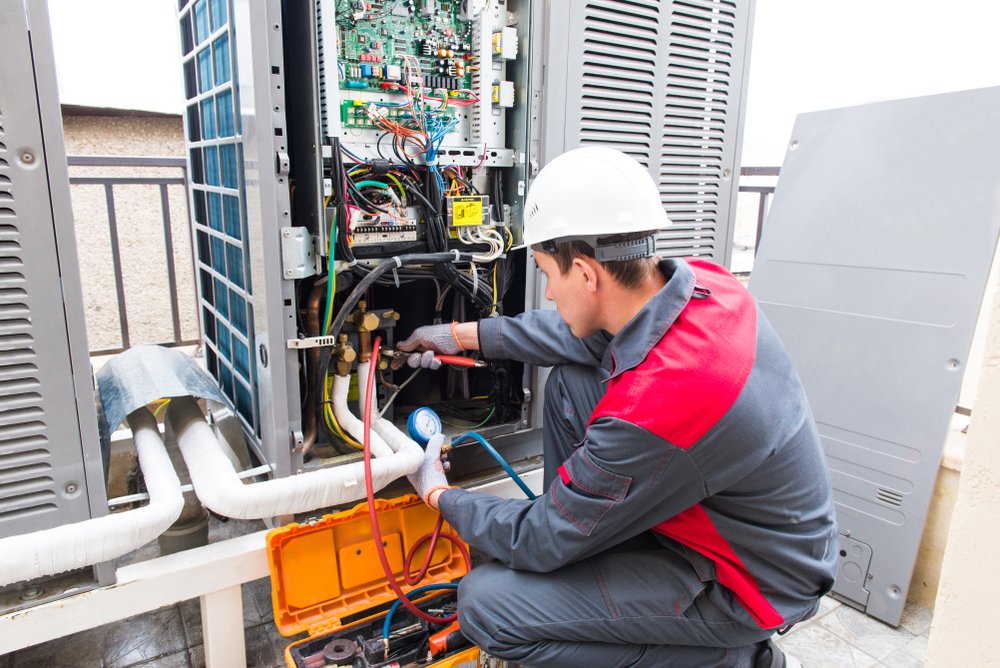 Air Conditioning Repair Service Company in Phoenix, AZ — 24 Hours AC Service
Air conditioning is an absolute necessity here in the Phoenix area, and it can be a nightmare when your HVAC unit breaks down. However, consumers can avoid pricey replacements with education and proper planning. You can protect yourself with just a few simple HVAC maintenance facts and a knowledgeable and professional partner on your side. AccuTemp Refrigeration serving Phoenix, AZ and the surrounding areas offers a full complement of air conditioning repair services to keep you cool and comfortable when the mercury begins to rise.
Get an Air Conditioner Repair Quote Today
Don't suffer through another day without a functioning AC system! Our team of skilled technicians is here to help with all your AC needs, from troubleshooting and emergency repairs to ductless AC repair. We understand the importance of a cool, comfortable indoor environment, especially during those hot summer months, which is why we offer fast and reliable service to get your AC up and running again in no time. Contact us today to schedule your AC repair service and enjoy a cooler, more comfortable indoor space!
Home A/C Repair Checklist Infographic
Feel free to share and embed this infographic wherever you'd like.

How to Know When Your HVAC May Need Service?
When it comes to identifying potential AC issues, knowledge is power. At AccuTemp Refrigeration we pride ourselves on educating our customers on recognizing the signs of a problem early on before they become catastrophic. After all, no one knows your home better than you. This infographic includes a preliminary A/C maintenance checklist, as well as common signs and causes of AC problems, and potential solutions. We also give you tips for proper air conditioning maintenance.
If you notice anything unusual at all about your air conditioning unit, that may be a sign of trouble on the horizon. A change in your AC unit may indicate a larger problem, and it's best to contact an HVAC professional before the issue gets any worse. Call AccuTemp Refrigeration as soon as possible if you observe any of these signs:
Smells – It's not normal for your AC unit to pump strange scents throughout the home. It could mean that something is inside the unit or in the air ducts themselves, and it's best to find the source and remove it immediately. The smell could also be caused by overheating or other malfunctioning electrical components, in which case, trouble is right around the corner. Overheating equipment is a safety concern as well as an HVAC problem, so address it right away.
Noises – When your air conditioning unit is performing at its best, it should be almost silent. Loud or unusual noises from your air conditioning unit are annoying, but they're also a sign that something has gone wrong. The solution could be as easy as lubricating a motor or replacing a belt. It's essential to call in a professional to complete those tasks before the damage gets more severe.
Excessive Moisture From AC – There are a few reasons your air conditioner could be producing more moisture than usual. A refrigerant leak is the most serious of the common causes. It poses a significant risk to the AC, the environment, people, and pets. On the other hand, the problem could be as simple as a clogged drain tube. Either way, it's essential to have a qualified HVAC contractor out to diagnose the issue and make any necessary repairs.
AC Doesn't Cool House – This is perhaps the most obvious sign of all that your air conditioner just isn't working as it should. If it can't produce cold air for every room of your house, it's only a matter of time until you need AC repair to stay comfortable. Our Phoenix air conditioning professionals will inspect the air filters, control board, and every other component of your unit until we find and fix the problem.
While it's tempting to try to make repairs yourself, consumers need to know that it can be dangerous. Some things, like changing filters regularly, and find for homeowners to do, but more complicated repairs require professional attention to avoid damaging your unit and possibly voiding your warranty.
What Is Included in A/C Service From AccuTemp Refrigeration?
In our many years in business, we at AccuTemp Refrigeration have developed a comprehensive checklist to identify many of the different problems your HVAC system might have. We'll look for things like refrigerant leaks, dirty AC filters, blower unit malfunctions, and much more. Our technicians are highly trained and receive continuing education, so they'll be able to find the source of your air conditioning malfunction. From the cooling coil to the AC control panel, AccuTemp Refrigeration does a thorough examination, leaving nowhere for issues to hide. Some of the common problems we look for fall into two categories: either issues with the air handler inside or with the outside condensing unit.
Potential Issues With the Air Handler Inside
Air filter: Dirty air filters can cause low suction pressure in the HVAC system. Dirt can also build up on evaporator coils and disrupt their operation. A home with poor filtration often has high levels of dust that can aggravate allergies and respiratory illnesses.
Evaporator coil: A dirty evaporator coil interferes with airflow and keeps heat from effectively transferring to the refrigerant. Over time, this can lead to a failure of the compressor.
Evaporator drain pan: Algae can block the drain line, causing an overflow of gallons per day and damaging ceilings and floors.
Blower motor heating: This problem mimics a dirty evaporator coil in that it results in a loss of heating or excessive heat because of low airflow. The high level of heat may damage heating coils.
Temperature rise: When the maximum temperature rise is achieved with a minimum airflow level, the heater can be damaged. When the minimum temperature rise is achieved with a maximum airflow level, you can get cold drafts.
Wiring disconnects: If connections are loose or overheat, you may see a sudden loss of heating under peak load.
Potential Issues With the Condensing Unit Outside
Condenser coil: Without cold air to remove heat from the refrigerant adequately, the compressor can overheat and eventually break down.
Refrigerant lines: Undersized lines can reduce system capacity and create oil return problems, which shorten the compressor's life and cost you more in heating and cooling expenses.
Compressor: If the compressor becomes overworked, bearings seize up, and you may have damage to the capacitor.
Compressor run capacitor: An overworking compressor causes problems. Bad capacitors reduce the starting ability and interfere with the compressor. A weak capacitor may show a higher than average amperage.
Start capacitor: Weak capacitors reduce starting torque in the compressor, causing it to overheat.
AccuTemp Refrigeration checks all of these and many other factors to determine why your air conditioning system is not working as it should. You can trust our professional and experienced technicians to be thorough and leave no stone unturned until they find the problem. Then we review all of the repair or replacement options with you to make an informed decision.
How to Prevent Air Conditioning Repair – AC Maintenance Phoenix, AZ
You may be able to prevent costly repairs to your home's HVAC system by scheduling regular maintenance. Our air conditioning experts stay up to date with all the major brands, and we have the necessary equipment to keep your unit running as efficiently as possible. Reach out to us about Phoenix AC maintenance to prolong the life of your unit, prevent minor issues from getting out of control, and reduce your monthly energy bills.
Benefits of Professional AC Repair
You may be able to perform some minor maintenance and repairs on your HVAC system all by yourself. It's a good idea to do what you can, like change the filters regularly and inspect your AC unit for signs of moisture buildup. At some point, though, you may run into problems you can't solve without help. That's when it's time to call in the professionals and retake control of your home. Our NATE-certified AC professionals will do whatever is necessary to fix your air conditioning unit, and they'll do it quickly, too. Our air conditioning professionals at Accutemp Refrigeration know the ins and outs of various types of ac units and the smartest way to fix them.
Air Conditioning Brands We Service in Phoenix, AZ
No matter what type of residential air conditioning equipment you have, you can trust AccuTemp Refrigeration to take care of it. Our technicians have received extensive training across all the major brands, and we have the tools and parts they need to get the job done. We commonly service air conditioning equipment from all of the following brands and work on others.
Carrier
Trane
Rheem
Goodman
York
Goettl
Payne
Amana
Day n Night
Daikan
Fujitsu
Repair or Replace AC in Phoenix, AZ
Air conditioning problems are already stressful, and one of the most challenging things is deciding whether to repair or replace your AC unit. We at AccuTemp Refrigeration always put our customers first, so our HVAC experts will give you a thorough explanation of all your options. Your comfort and satisfaction are more important to us than making a sale, so we'll never try to sell you any equipment you don't need.
Whenever possible, we'll repair your existing unit to get your home nice and cool again without costing you an arm and a leg. If your AC unit is absolutely at the end of its life, or if it would be more expensive to maintain than replace, we'll be straightforward with you about that. You can count on receiving an expert opinion before you make any decisions one way or the other.
Cheap AC Repair in Phoenix, AZ
They say you get what you pay for, but sometimes you can get the best AC repair in Phoenix without shelling out a bunch of cash. Our ability to provide premium service at a reasonable price is why we're a top HVAC contractor in Arizona and have an A+ rating from the Better Business Bureau. We think of reliable air conditioning as a necessity, especially during the hot summer months, so we do our best to make it accessible to everyone. If you're on an incredibly tight budget, contact us to discuss options.
Areas Served – AC Repair Near Phoenix, AZ
As the name implies, the Valley of the Sun makes fast AC repair necessary. Our staff works hard to organize our service calls in a way that lets us get to every job as quickly as possible. Our central location helps us respond to AC repair calls in all of the following areas:
Anthem
Apache Junction
Arcadia
Buckeye
Carefree
Cave Creek
Chandler
Fountain Hills
Gilbert
Glendale
Goodyear
Litchfield Park
Mesa
Paradise Valley
Pebble Creek
Peoria
Phoenix
Queen Creek
Scottsdale
Sun City
Surprise
Tempe
Best Phoenix Residential Air Conditioning Repair
We at AccuTemp Refrigeration are proud to provide the most reliable AC repair Phoenix has to offer. Our friendly, skilled technicians have all the tools and knowledge required to perform your residential air conditioning repair quickly and effectively.
Whether you need a repair, routine maintenance, a replacement unit, or installation in new construction, AccuTemp is the name to trust in the Phoenix area for all your HVAC needs.
Don't wait for the summer heat to beat down before you discover that your air conditioning system has performance issues. Contact us today, and we'll have your Phoenix home nice and cool again in no time.
Featured Image: Eagle_Marat / Shutterstock