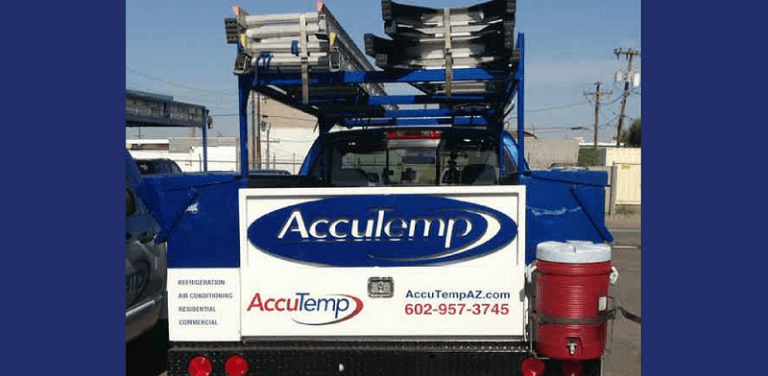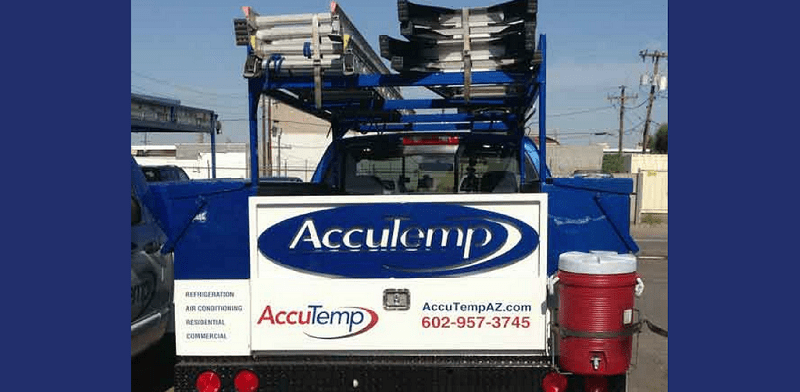 Nearly every day during summer, the temperature in Phoenix, AZ tops 99°F. With an average July high temperature of 106 degrees, if you're living near Phoenix, air conditioning service and maintenance is a way of life.
We at AccuTemp Refrigeration are proud to be considered among the best Phoenix AC companies, and we always work hard to maintain that reputation. We've been identified as a top HVAC contractor, have earned an A+ rating from the Better Business Burea, and employ the best professional air conditioning technicians in the area. By hiring skilled employees, training them thoroughly, and staying committed to continued education, we've achieved NATE certification in addition to numerous other certifications. Trust a certified AC contractor to complete all the work you need to keep your home cool during an Arizona summer.
Air Conditioning Services in Phoenix, AZ
Since we've been working in and around Phoenix since the 1980s, we've seen just about everything. That means you can call AccuTemp Refrigeration no matter what's going wrong with your AC, and we'll offer quick, affordable, effective solutions. Your comfort and satisfaction are our top priorities, and we always put the customer first as we help people keep their cool in the Valley of the Sun. Our friendly staff is available to respond to emergencies at any time of day or night with 24/7 air conditioning services, so don't hesitate to reach out to us about any of the following:
Air Conditioning Installation in Phoenix, AZ
New AC installation can be a dreaded outcome for many homeowners, but we go above and beyond to make the process as quick and painless as possible. We've completed all types of HVAC projects, and our workflows have been streamlined to enable fast success. We'll help you find the right AC size, provide a quality system, then follow all local safety and building codes. If you're on the fence about repairing or replacing your air conditioner, we'll give an honest, professional opinion about all of your options.
Click here to learn more.
Phoenix A/C Repair Services
Years of experience and excellent training help our air conditioning experts identify and fix problems quickly. Our AC repair services are available for every brand of air conditioning equipment, including all of the following:
Trane
Rheem
Goodman
York
Goettl
Payne
Amana
Day n Night
Daikan
Fujitsu
Since we service every brand, you can count on us to have the parts and equipment required for a fast AC repair.
Click here to learn more
AC Maintenance Protection Plans
Our residential maintenance agreements are designed to prolong the life of your air conditioning unit and help it continue to function efficiently. Help your AC unit last longer by taking great care of it– well-maintained air conditioners can stay operational almost twice as long as neglected equipment. Inexpensive AC tune-ups are a great investment because they can help you go longer without replacing your air conditioner.
A broken air conditioner in Phoenix can lead quickly to a hot and uncomfortable home, so it's best to avoid that situation altogether. We'll send experienced HVAC contractors to your home on a regular basis to run tests, perform inspections, and make sure everything is working as efficiently as possible. Our AC tune-ups will help keep your monthly energy bills lower as well as preventing costly repairs.
Click here to learn more
Residential Air Conditioning Services in Phoenix
No matter your need, we at AccuTemp Refrigeration are standing by and ready to perform any type of residential air conditioning services for your home. We're fully licensed, bonded, and insured, and take great pride in being reliable. We believe homeowners in Phoenix should always be able to get fast air conditioning services, so we're available 24/7. No matter when you call us for your installation, repair, or regular maintenance, we'll stand behind the work we do 100%.