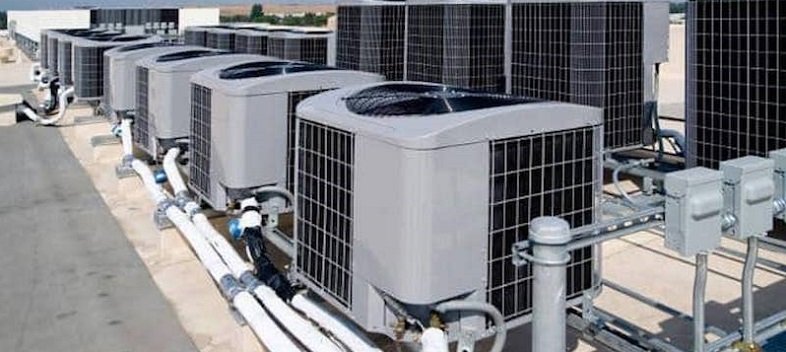 As a business owner or manager, you understand the importance of keeping your employees and clients happy. One part of this is maintaining temperatures cool in the summer and warm in the colder months. As a commercial heating and cooling company, Accutemp provides a variety of commercial HVAC services, from installation and repairs to regular maintenance. If you are looking for a dependable company that is focused on providing excellent customer service, we are the professionals to call.
Get a Commercial HVAC Repair Quote Today
Upgrade your HVAC system today and enjoy improved indoor air quality and energy efficiency! Our team of experts is here to help you select the right HVAC replacement system for your space, install efficient ductwork to optimize airflow, and improve your indoor air quality. Don't let an outdated or inefficient HVAC system compromise your indoor comfort – contact us today to schedule your replacement service and start enjoying a healthier, more comfortable indoor environment!
AccuTemp offers Commercial Air Conditioning systems, including:
Unitary Heat Pumps and Air Conditioners
Evaporative Cooling Systems
Air Conditioning System
Air Ducts
We handle all repairs, installation, and maintenance issues that may arise and stand 100% by our work.
Commercial HVAC Installation Service
When it comes to commercial HVAC installation, we have the skillset to help. You may have already picked out your unit and need assistance to install it. We will ensure the proper installation of the system in the time frame you need it. We will also guide you through how to use it correctly for the best efficiency.
If you are starting from scratch, our commercial HVAC contractors can guide you through the process of picking out the right unit. We know that choosing an HVAC unit for commercial needs is much different than for residential, and we have the expertise to advise you. By learning about the type of business and your specific needs, we can recommend a variety of options based on certain factors, such as your budget and size of the space.
Once you have decided what to get, we provide expert installation services from start to finish. No matter if you are the head of a hotel, a boutique, restaurant, or a retail establishment, we will make sure you have the right equipment to keep your clients and employees satisfied.

Commercial HVAC Repair Services
Commercial HVAC systems are complicated. Regarding commercial AC repair, you need a prompt response because your business depends on it. Customers are not going to have a good experience if they have to suffer due to high temperatures, and the productivity of employees is affected if the climate is not controlled.
Not only do our experts show up promptly when called, but they also have the expertise necessary to fix these systems. They constantly update themselves and receive training on the latest technology. Our professionals can deliver the most efficient and effective service, whether your heating or cooling system is down.
If a component of your system needs to be replaced, we can get that done quickly. We do what's possible to ensure the impact to your business is as minimal as possible.
Comprehensive HVAC Maintenance
One of the best ways to prevent a significant repair issue is to get regular maintenance on your HVAC unit. Not only does maintenance help catch problems before they become substantial, but it also helps the system run at its highest power and efficiency, which helps you contain costs.
We provide one-time maintenance checks, and we also offer maintenance services on a scheduled basis, which can be twice a year or whatever works best based on your specific business. During our maintenance visit, we check all components of the inside unit as well as the outside condensing unit. Some of the parts we check include:
• Air filters
• Thermostat function
• Temperature controls
• Evaporator coil
• Condenser coil
• Refrigerant lines
• Start capacitor
Maintenance visits help identify manageable problems that may lead to bigger ones if not taken care of. For example, a common issue is a dirty air filter. The dirt quickly builds up over time, which leads to improper heating and cooling. It is an easy and inexpensive fix to replace it.

24/7 Emergency Commercial HVAC Services
We understand that problems with an HVAC system do not follow a convenient schedule. This is why we offer emergency services 24 hours a day, seven days a week. Our experts deliver prompt service and fix the problem as quickly as possible. We even provide this service on holidays.
Why Choose Us?
Accutemp is the company to contact for your commercial HVAC needs. We have been providing commercial and residential HVAC installation, repair, and maintenance in the Phoenix area since 1981.
Some compelling reasons to choose us:
• A+ rating from the Better Business Bureau
• NATE certification
• Experienced, licensed, and certified professional technicians
• 2018 YELP award recipient
• 24/7 emergency services
• Provide 100% satisfaction guarantee
Do not settle for subpar commercial HVAC services when you can get help from the experts. Contact Accutemp to schedule an appointment for your commercial needs. We provide services to multiple areas in and around Phoenix, AZ. Give us a call at 602-957-3745 today!