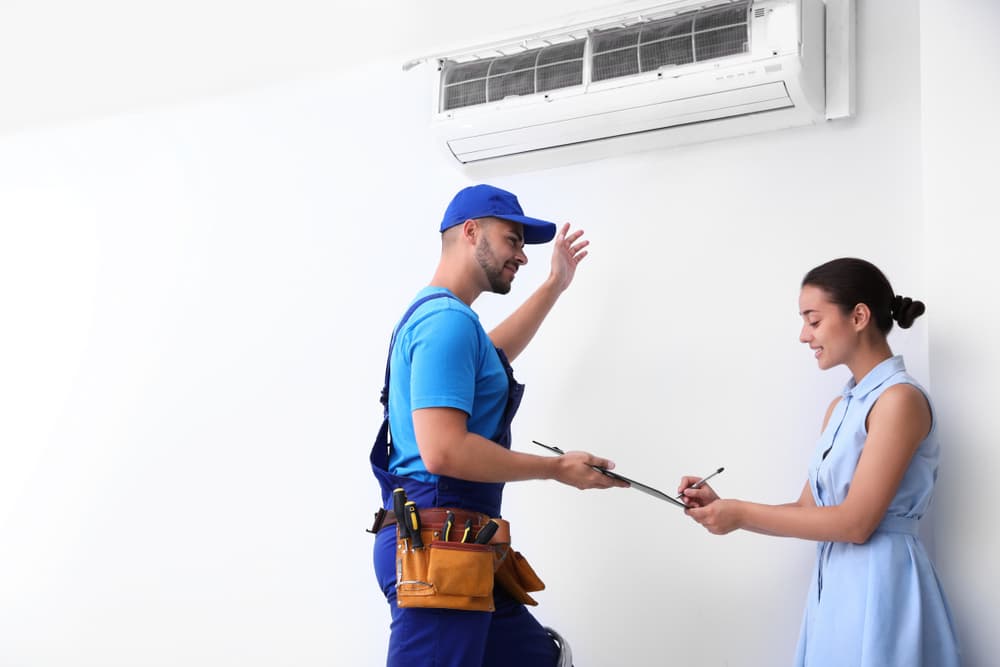 At AccuTemp, we understand the time and financial investment you've made in your heating and cooling system. We also understand that living well isn't just about having an efficient HVAC system. It's also about knowing whom to call when it stops working as it should.
AccuTemp prides itself on being the professional company you can reach out to when your furnace or AC develops problems. We are the experts that homeowners in Scottsdale, AZ, turn to for reliable results on the job. If you've never hired our services before, you'll soon understand why we have a reputation for professional reliability. 
Service Area – Scottsdale, AZ
The comfort of your home in Scottsdale, AZ, is crucial, regardless of what season it is. When your system can't keep up with the demand or breaks down, you need an HVAC contractor in Scottsdale, AZ, to restore its functions.
AccuTemp offers comprehensive HVAC services in Scottsdale, AZ, and the larger Scottsdale area. We have the skills and resources to meet your needs, from installation to repair and maintenance.
Our services
We provide a wide range of services to our clients in Scottsdale, AZ, which makes us the trusted refrigeration contractor in Scottsdale, AZ. When you come to us for the first time, it won't take long to see why you should trust us with your HVAC system. Our range of services includes:
AC Unit Installation, Repair, and Maintenance
When installing your air conditioner, we strive to improve energy efficiency. We will recommend a system replacement if we determine that a new system is better for your space. We also provide maintenance services to ensure the system optimally cools your home to extend your unit's life.
Heating Unit Installation, Repair, and Maintenance
An HVAC system in good working condition ensures your home in Scottsdale, AZ, remains warm when the temperatures go low. Trust us to install, repair, or maintain your unit in the best way possible for the highest return on your investment. 
Refrigeration Unit installation, Repair, and Maintenance
AccuTemp doubles up as your reliable refrigeration contractor in Scottsdale, AZ. Our team is highly trained to install, repair and maintain your unit to maintain its efficiency.
Wine Cellars Unit Installation, Repair, and Maintenance
We understand how sensitive wine is, especially in warm weather. We provide wine cellar unit installation, repair, and maintenance to keep your favorite beverage in good condition at all times.
Why Choose AccuTemp?
At AccuTemp, we have a professional team committed to delivering reliable and exceptional customer service. We treat all our clients equally in a professional and respectful manner. Each team member believes in delivering an exceptional experience and top-notch service. Trust us to handle all your residential projects promptly and with the urgency they deserve.
What to Expect from Our Services
All the technicians at AccuTemp are fully licensed, insured, and trained, meaning they have all it takes to take care of your AC and HVAC systems. You can expect to get the following from us as we serve your needs in Scottsdale, AZ:
Prompt service and 24/7 emergency service
Upfront pricing without hidden charges
Phone estimates and free second opinions
Customer-centric service and top-of-the-range solutions
Scheduled Quality HVAC Service in Scottsdale, AZ
If you notice signs that your heating, cooling, or refrigeration systems are not working as they should, don't hesitate to reach out to an expert for HVAC services. The sooner you address the issues, the easier it'll be to fix them.
Call us today to schedule HVAC services at your home in Scottsdale, AZ. Our 24/7 HVAC team is at your service. 
Image Source: New Africa / Shutterstock