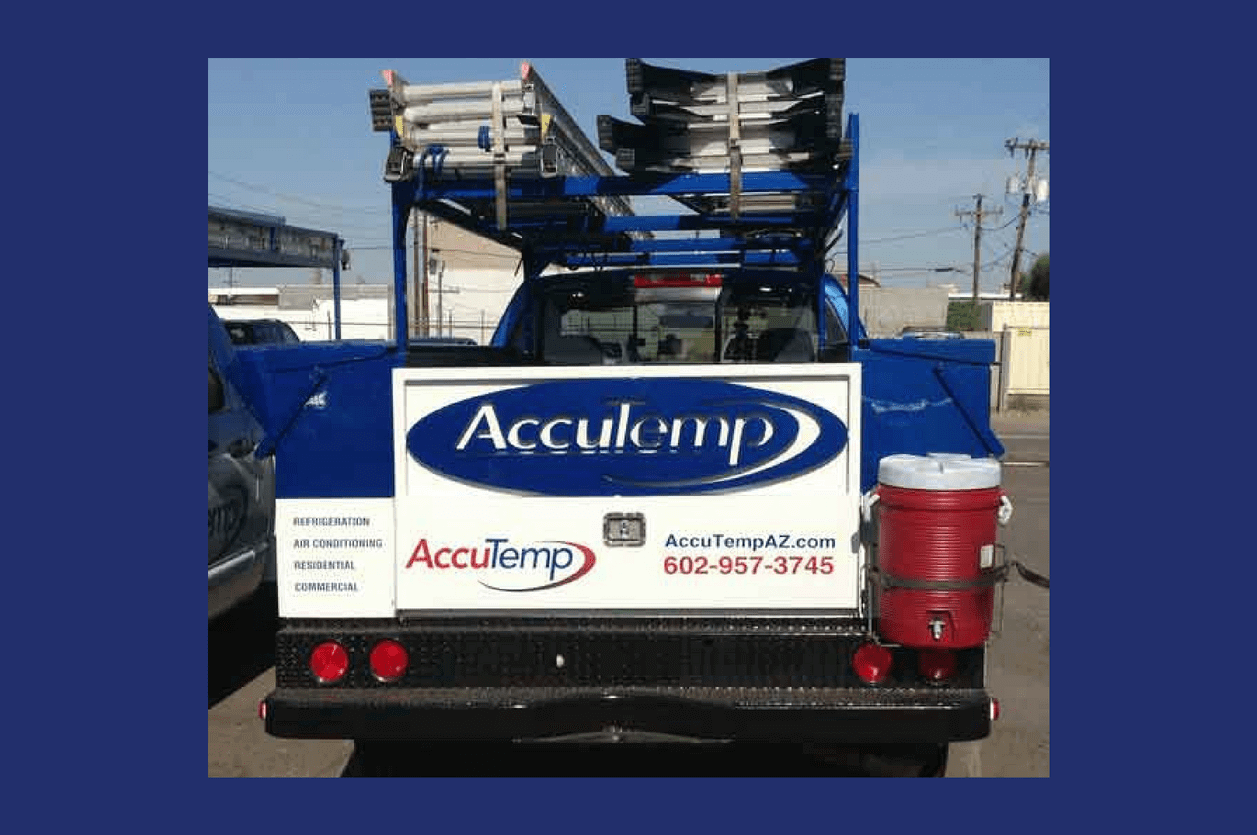 24 Hour Home AC Installation Company in Phoenix, AZ
AccuTemp Refrigeration has been keeping people cool in the Valley of the Sun since 1981, and we do things the right way by always putting the customer first.
Get an Air Conditioner Installation Quote Today
Upgrade your HVAC system today and enjoy improved indoor air and energy efficiency! Our team of experts is here to help you select and install the perfect HVAC system for your space. We'll ensure that your AC unit is sized correctly for optimal performance and efficiency, and install efficient AC ventilation systems to improve your indoor air quality. Don't let an outdated or inefficient HVAC system drive up your energy bills – contact us today to schedule your installation service and start enjoying a more comfortable, energy-efficient indoor environment!
AccuTemp Refrigeration is a full-service AC Installation and HVAC company, handling everything from complicated commercial systems to residential HVAC. We serve all of the following areas and more, so reach out to us when you need to stay cool anywhere in the Valley of the Sun:
AccuTemp Refrigeration's AC Installation Process
At AccuTemp Refrigeration, we understand that getting a new air conditioning system is a significant investment in your Phoenix home. Before you invest time and money into something that doesn't meet your needs, let our professional team walk you through a few necessary steps.
Do You Need a New Air Conditioning Unit?
No one wants to replace an air conditioning system unnecessarily. However, there are times when it makes sense to get a new ac unit instead of continuing to pour money into an old one. While every home and every unit are different, there are a few signs to look for to help you decide if it's time to replace your air conditioning unit instead of making repairs.
How old is your system?
If it's more than seven years old, it's probably worth considering a replacement. Even if the unit still works, air conditioning technology has advanced so quickly that newer units are far more energy-efficient. You may see substantial savings on your utility bill, offsetting the cost of the new system.
Does anyone in your household have asthma, allergy, or other respiratory issues?
If so, keeping your air conditioning unit running at peak performance is a matter of health, not just comfort and efficiency. A new unit can help keep the air in your home cleaner, making breathing easier. Keeping the air in your home at the proper level of humidity and temperature reduces the likelihood of harmful impurities and microorganisms in the air.
How much do you spend on repairs and maintenance of your air conditioning system?
Compare that to the price of a new unit, and you may find that your hard-earned money is better spent on a replacement. As the unit ages, finding parts becomes more difficult and expensive.
Is your air conditioning system loud or running all the time?
These are signs that it might be time for a replacement. Newer units operate more quietly and efficiently, so they have a longer useful life.
What Size Air Conditioning Unit Do You Need?
The team of professionals at AccuTemp Refrigeration knows that the first step in getting a new air conditioning system is to determine what size unit you need. Several factors go into this determination.
How large is the area you need to cool?
To get a system that can do the job, you need an accurate measurement of your home's square footage.
How many windows do you have, and where are they located in your home?
It's also helpful to know how large the windows are.
How many people live in your house? What are their traffic patterns?
This information can help the technicians understand which areas of the home are the busiest and may need the most cooling.
How many lights are in each room, and what is the wattage?
How many appliances do you have?
Where are they located, and what is the wattage?
What is the BTU of your home?
BTU stands for British Thermal Unit, and it is a way of measuring energy. One BTU is how much power is required to heat one pound of water by 1 Degree Fahrenheit at sea level. As it relates to your home, the BTU is the amount of energy the appliance produces over an hour.
Considering all of this information is able to tell you what size air conditioning system, you need to keep your house cool in the Maricopa County, Arizona climate.
What Kind of AC Unit is Best for My Home?
Once we know what size unit you need, the professionals at AccuTemp Refrigeration can show you the options for a replacement unit. We carry high-quality, reliable systems from brands you trust, such as Carrier and more.
Every unit comes with a 1-year labor warranty so that you can be confident in your purchase. Once you've chosen your unit, our team of installers will follow all local codes ordinances to complete your air conditioning installation safely. We also take care of any ductwork repairs or changes needed for the unit.
After installation, we test the air conditioning system and charge it with refrigerant. Then we retest all the components and show you how to operate the new unit and use all its features.
Best Air Conditioning Companies in Phoenix
The best AC companies in Phoenix can handle any job, no matter how big or how small. From Scottsdale to Arcadia, we can install, repair, or replace HVAC equipment in just about any setting.
Why Choose AccuTemp Refrigeration
 

AC Installation in AZ?

Here at AccuTemp Refrigeration, we value integrity and customer satisfaction above just about everything else. We're a member of the Arizona Heat Pump Council, and our HVAC contractors are licensed, bonded, and insured. We go above and beyond to provide the highest quality of service for any job, from big to small.

That means we're always looking to help our customers claim all available rebates and tax credits as they make their properties more efficient. Our estimates are thorough and straightforward, so there should never be any surprises during or after our service.

Since we take so much care to do every job the right way, we can afford to offer a 100% Satisfaction Guarantee. Contact the professionals at AccuTemp Refrigeration when you need fast, friendly, professional HVAC service in Phoenix.
Our Commercial and Residential Services in Phoenix, AZ
AC Installation
AC Repair
AC Maintenance
Commercial Refrigeration
AC Installation
AC Repair
AC Maintenance
Since 1981, AccuTemp Refrigeration has been caring for Arizona homes. We're a highly rated company with an A+ rating with the BBB and NATE certification, a sign of a well-trained team of professionals.
No matter the size of the job, AccuTemp Refrigeration can get the work done quickly and efficiently. For quality AC installs in Phoenix, AZ, call AccuTemp Refrigeration 24/7 today for your valley heating and air needs!
AccuTemp Refrigeration is a fully licensed, bonded, and insured HVAC company in the Valley. Our license numbers: #ROC 80131, ROC 80132, ROC 80133.