Air Conditioning Heating. Built on Willis Carrier's invention of modern air conditioning in 1902, Carrier is a world leader in heating, air-conditioning and refrigeration solutions. At AccuTemp Refrigeration, we have been installing, repairing, and maintaining Carrier equipment in the Phoenix Metro area for over 30 years.
Carrier AC and Heating
The Carrier AC is a top-of-the-line HVAC system that not only provides efficient cooling but also offers advanced features to improve indoor air quality, making it a smart investment for any home
Carrier AC and Heating Repair & Installation
Do you have a Carrier AC system or heating unit that needs Repair or Maintenance? AccuTemp Refrigeration's NATE Certified Technicians in Phoenix, AZ, and surrounding areas can help ensure you get back up and running as quickly as possible. Our valley HVAC technicians are not commissioned, so you do not have to worry about a sales pitch for repairs you do not need. We get to the problem quickly and fix it immediately.
Free Estimates
AccuTemp Refrigeration offers a Free on-site quote and estimate service for any new Carrier AC system or heating equipment. This allows us to fully understand your requirements and needs so that you get the right solution, nothing more and nothing less.
Carrier Advanced Thermostats
Some people like to dictate every nuance of their climate, from humidity to temperature. Some like remote access to tinker with temperature and save money even when they're not at home. People like to specify preferences in eight different rooms. And some people simply don't want to have to think about it at all. This is why Carrier HVAC brand line of thermostats and controls has something for everyone—including you.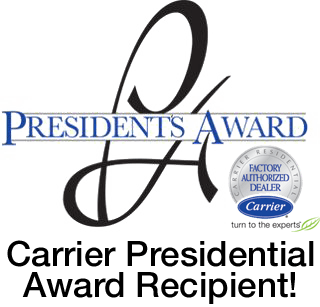 Get Carrier Air Conditioning Products at AccuTemp
Accutemp is the company to contact for all HVAC system services in Phoenix, AZ, and surrounding areas. We have been a provider of commercial and residential HVAC installation, maintenance and repair for the Phoenix area since 1981.
If you are looking for Carrier AC and Heating Products as well as Professional Carrier AC Installation Services, contact Accutemp experts today to schedule an appointment or consultation! Give us a call at 602-957-3745 today!
Expert AC Repair in Phoenix and Surrounding Cities
We're proud to provide HVAC and refrigeration services in Phoenix, AZ, and all around. We have an excellent reputation in the entire Phoenix Valley Metro Area, including a BBB A+ rating:
Queen Creek, AZ
Peoria, AZ
Mesa, AZ
Tempe, AZ
Goodyear, AZ
Don't see your city on the list? Don't worry. We'll go to you!
The Valley is a big area with lots of suburbs — more than we can list on a single page. Just give us a call at (602) 957-3745, and we'll visit your home or business right away.