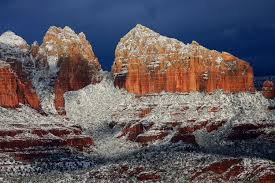 The thermostat has finally dipped and is holding. We made it through yet another Valley of the Sun summer in Phoenix. While for us, your AccuTemp Team, this is a bittersweet moment, we know this is the time of year we remember why we live here. Can't shovel sunshine, right? 
So, with that in mind, how do we prepare for the cooler temps? We have a guide for you, of course. Check these Phoenix Winter tips below to ensure your Heating is in order for the coming months. 
1. Clean or Replace Air Filters
Change your air filter. If you have a disposable filter, remove the old one and insert a clean replacement. If your filter is reusable, wash it according to the manufacturer's directions and allow it to dry entirely before reinserting it into the filter compartment.

2. Inspect & Clean Air Vents
Inspect all registers and return air grilles in your home to ensure there is no build-up in air vents, and they are not blocked or shut. These vents should never be blocked, as doing so will restrict airflow through your HVAC systems, which could create performance issues and system overheating. Move all carpets and rugs, furniture, and other items away from vents. Check to see that vent louvers are open; if you wish to shut off heating to unused areas of your home or building, never close more than 20 percent of the structure's HVAC vents.
3. Reduce HVAC Energy Consumption
If you have many unused areas, consider investing in a zoning system that will allow you to reduce energy waste while facilitating proper HVAC system performance – work with a trusted HVAC contractor to design and install zoning solutions for your home or business.
Temperatures may dip low enough this month to warrant the use of the heating system. Before this point, fire up your heating system for a test run. Doing so will allow you to make sure it comes on and works properly. If it doesn't, you'll have the opportunity to have repairs made before cold weather hits.
Keep the area surrounding your heating equipment clear. Never store items directly by the furnace, especially flammable or combustible material such as rags, wood, gasoline, paint, solvent, and cleaners.
Check your smoke and carbon monoxide detectors monthly throughout the heating season. Replace batteries now, and test them each month, using the unit's TEST button. Vacuum away any dust which has accumulated on the detectors.
Schedule Heating System Inspection in Phoenix
As always, reach out to us here at AccuTemp to schedule your seasonal maintenance, answer questions, and ensure your family is comfortable in this transitional season! Call AccuTemp at 623-404-8785 or contact us.